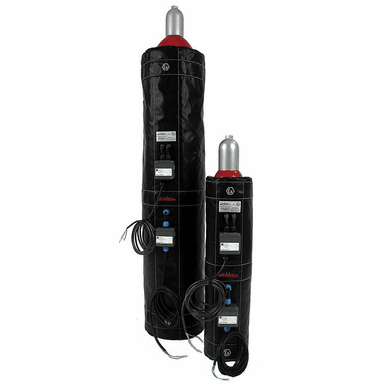 ATEX Hazardous Area Gas Bottle Warmers 230v 380w
Free Shipping
Description
Specs
You May Also Need
Q&As
Reviews
Description
230v | 380w ATEX Insulated Gas Cylinder Warmer. 230 VAC. 380 W. Fits 10 Litre Gas Bottles 870 mm x 140 mm. Inside Diameter 140 mm. Height 0,8 m. Includes 2 Built-In Ex-PT100 RTD Temperature Sensors. Maximum Operating Temperature 180°C. Maximum Ambient Operating Temperature -40°C to 60°C. 3,0 m Power Cord and Sensor Cables with Crimped Ferrule Terminated Leads.
For Use in Potentially Explosive Gas and Dust Atmospheres. The Heater Must Be Temperature Controlled and Limited To The Required Temperature Class. T3. IP65. ATEX II 2G Ex e mb IIC T3 Gb, II 2D Ex e mb IIIC T120°C Db, -40°C ? Ta ? +60°C (ambient temperature), EC-type examination certificate TPS 11 ATEX 29587 011 X.

This product requires a temperature controller for safe operation
Specifications
Outer Material: Waterproof PTFE-coated glass fiber fabric
Insulation: 20 - 25 mm (0.8 to 1.0 in) glass needle mat
Nominal Voltage: 230 VAC
Nominal Power: 1200 W
Heating Element: Grounded for your safety
Operating Temperature:-40°C to 200°C (-40°F to 392°F) (steel drum)
Operating Temperature:-40°C to 70°C (-40°F to 158°F) (plastic drum)
Temperature Class: T6, T5, T4, T3 (depending on temperature limiter setpoint)
Protection Ratings: IP65/I
Zones: 1/2 (gas); 21/22 (dust)
Sensor: 2 standard 3-wire PT100 RTD sensors
Power Cord: 3 m (10 ft) long with crimped ferrule terminated leads
Q & A's
Questions & Answers about ATEX Hazardous Area Gas Bottle Warmers 230v 380w
Free Shipping
Q: What is ATEX?

A: ATEX is a set of European directives that define the equipment that is allowed in an environment with an explosive atmosphere. It gets its name from "ATmoshpheres EXplosibles".

Q: How is ATEX defined?

A: ATEX is divided into two categories: - 1) Gas, Mists, or Vapors, and 2) Dusts. The first has three categories which are "0", "1", or "2". The second also has three categories, and they are "20", "21", or "22". The higher the number, the more restrictive the environment.

Q: How do I know if my equipment is compliant with a given environment?

A: Equipment that is ATEX-complaint will have an ATEX marking on the product. Additionally, the manufacturer will be able to produce an ATEX-compliant certificate.

Q: Who certified that equipment is compliant to specific ATEX environments?

A: 3rd-party companies that are government-accredited as "ATEX Notified Bodies" for the ATEX directives can test and approve equipment for specific standards.

Q: Who defines my company's environmental ATEX classification?

A: The same ATEX Notified Bodies will perform inspections and define environments.

Q: Do employees need ATEX training or instruction?

A: Yes. Per government regulations, employees must be provided with all the necessary information, instruction, and training on the risks present at the workplace and the required prevention and protection measures.

Q: Do Heaters and controllers need to be approved as a system in order to be used together in an ATEX environment?

A: No. Each can be independently certified

Q: Are ATEX approvals recognized outside of Europe?

A: In some areas, they are accepted, and in some areas, they are not. For example, in Asia, they are accepted, but in North America, they are not. Local laws and regulations should be consulted.
Ask a question about
ATEX Hazardous Area Gas Bottle Warmers 230v 380w
Free Shipping
.
Click here