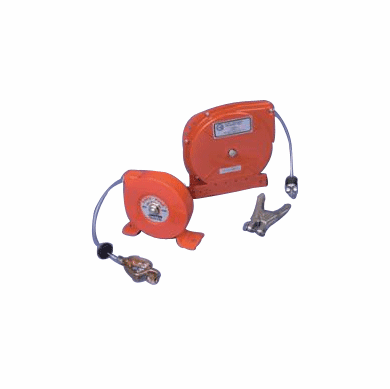 Retractable Grounding Wires 20' Plier clamp
Description
You May Also Need
Q&As
Reviews
Description
Prevents tangles to avoid accidents
Safe grounding where you need it
Ideal for high production drum handling operations. Convenient reel keeps just the right length of wire handy, helps promote regular use. Spring-loaded retracting reel holds 20' or 50' of 3/32" diameter uninsulated corrosion-resistant steel cable. Reel locks when operator pulls out the length of cable needed. Light pull on cable automatically retracts it. Choice of end connectors: Plier Clamp is die cast aluminum. Stainless steel points and 55 lb. spring ensure fast, positive metal-to-metal connection. 3/4" grip range. Alligator Clip is solid copper, 5/8" grip range.

Features:
Cable Length (ft.): 20
Connector: Plier clamp
Wt.: 5 lbs.
Q & A's
Questions & Answers about Retractable Grounding Wires 20' Plier clamp
Ask a question about
Retractable Grounding Wires 20' Plier clamp
.
Click here